I stood at the game store wall, starring at the gleaming purple box, imagining the wonders it might hold.  New mechanics, potions, and attacks!  I couldn't help myself, I had to buy a copy.
After a quick call to get a gamer buddy to pop over we whipped open the box and began scanning over the new rules.  After getting tripped over some of the phrasing (thank goodness for examples!), we believed we understood what was going on.
Initially I was slightly disappointed.  I had the misunderstanding that the "potions" in this new set were items that were made and and used for abilities.  What I got however was simply a new kind of treasure card, a potion treasure, that was required in the price of other cards.  Nothing super exciting there.
The excitement in this set comes from the other Kingdom Cards.  Although the one that turned into the thorn in our side was an unlikely little nuisance.
I've never disdained the use of a card so much, and then I met the Alchemist.  Looks innocent enough, right?  +2 Cards,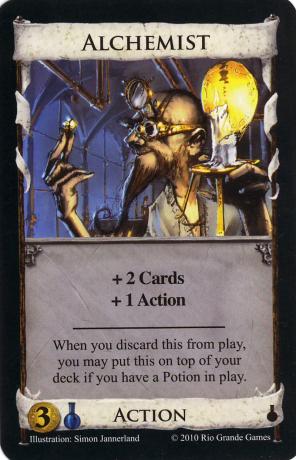 +1 Action. Really not that different from the Laboratory.   Think again, read that fine print, and know the horror that is the Alchemist. Whenever a potion card is in play the Alchemists may be returned to the top of the draw deck, rather than be discarded.  What does that mean?  Insane amounts of cycling.  My opponent had four of these at the top of her deck, causing her to draw eight cards at the beginning of each turn, and that was before any of the other card drawing mechanisms were played.
Others have argued that this isn't such a powerful card, you would have to have several potions in order to make it work.  Fools!  My opponent had only one potion in her deck.  That is all you need when your entire deck ends up in your hand. Why bother with more than one?
The next sinister card came in the way of Transmute.  Upon reading the text, the first two options really don't sound so hot, but that third one…. why that's just crazy enough to work!  Transmute was an incredibly cheap card to purchase, only requiring a single potion.  However, do you remember those pesky Estate cards?  Why not turn them into Gold?!  This led to a very interesting strategy of buying estates whenever something tastier wasn't available.  This usually would be a awful move, making your deck too clunky to play, but with transmute it simply made your deck more wealthy.
Another really scary card is the Scrying Pool.  This little treat mixes its more annoying brethren, the Spy, with the delicious deck cycling of the Adventurer.  What wasn't immediately apparent was a killer combo. Imagine if you will Scrying Pools, Secret Chambers, and Festivals all teamed up in a deck that is otherwise devoid of money and victory points.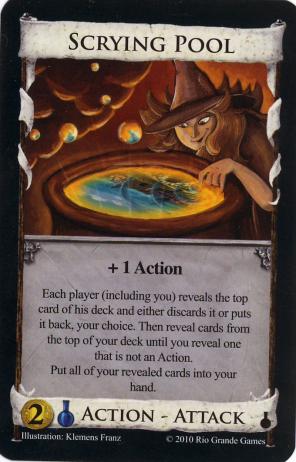 Step 1.) Play a scrying pool, thus drawing your whole deck.
Step 2.) Play a festival, there by gaining two more actions and a buy.
Step 3.) Play a secret chamber (Discard cards for +1 money each), and discard all but one scrying pool, racking up huge amounts of money.
Step 4.)  Play a scrying pool…
Wash, rinse, and repeat until all scrying pools have been played.  Now start laying out any remaining festivals and racking up those buys.  How much money do you have now?  How many buys?  Probably a lot.   So why not wipe out most or all of those tasty provinces.  Game Over.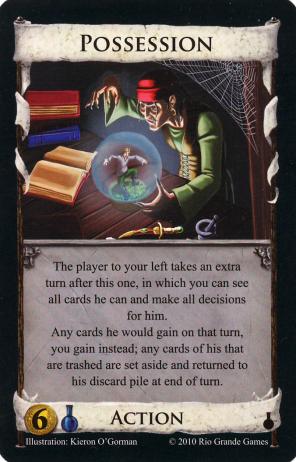 Despite the potential for winning combos, or silly amounts of cycling, the card that created the most ill will among players seemed to clearly be Possession.  This little card lets you take over your opponents hand and play it as your own.
The first time this card was played it felt like a violation.  Nothing feels quite so dirty as handing over your hand and deck, the deck you have painstakingly put together one card at a time, to one of your opponents so that it can be ransacked of it's spoils and then cast aside.   Ok, maybe I take a little too much of a maternal view of my deck, but certainly I can not be the only one!
Other than a sense of violation, possession just took an absurd amount of time to play with.  Each player in my game had at least one in their deck, and this could easily turn into one player taking two or three turns in a row, consistently.  I've heard others complain about the amount of time other cards eat up, such as the Golem, but this card won the "Eats away at Game Time" award, hands down.
So as you see, a lot of potential for some very very broken cards.  Whether these cards are truly going to be classified as certifiably broken or not, is yet to be seen, but I think it's clear that they are.
In other Dominion news, another new set is due to be released in the coming months (August or September):  Dominion Prosperity. This next set seems to be all about the Cha-Ching!  With the potential for an August release, we are buzzing to see if it'll arrive in time for a Gen Con release.
For more information on Dominion Prosperity you can visit their site at: RioGrandeGames.com